From time to time
The clouds give rest
To the moon-beholders.
The summer grasses
Of brave soldiers dreams
A bee
staggers out
of the peony.
Matsuo Basho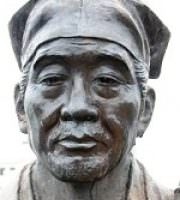 About
Matsuo Basho
Matsuo Basho was one of the most famous haiku masters of the world. His poems were influenced by his firsthand experience of the world around him, often encapsulating the feeling of a scene in a few simple elements.